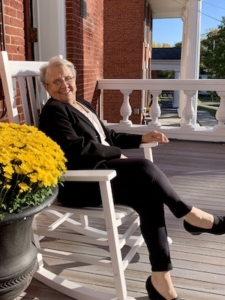 Phyllis Motill
President of Board of Directors
Three Bears Ovid
Chairperson – Phyllis Motill
Membership – Sally Tillinghast
Grounds – Kit Cupp
Treasurer – Donalie Kelly
Grants & Events – Shannon O'Connor
Social Media – Jean O'Donnell-Nickerson
Promotion and Tourism Assistant – Rebekah Lont Clark
Baby Bear – David Neiss
Town Board Ovid – June Favreau
Mark Sinkiewicz
Tourism: As we open the Tourism Center post COVID, we will need representatives to greet guests at Mama Bear.  Email the Operation Manager, Carol Anne Barsody at [email protected] to become a part of this exciting opportunity.
Marketing:  Be responsible for the quarterly publishing of our Bear Hugs Newsletter and print materials.
History:  The Bears are more than buildings they are the stories of the people who served as clerks and judges.  Understanding the times in which the people of Ovid lived.  These would be used in the Bear Hugs and Website and in conjuncture with tours for Adults and Students.
Grounds:  Love to Garden or are you a Master Gardener in search of a project?  The grounds would be enhanced with lovely perennials along the walkways. The interior is always in need of maintenance and sprucing up.  We would love to have your elbow grease.
Events:  There are many fundraising and cultural events planned for 2022 and we will need a short term commitment of time to make these successful.
Fill out Form Below: